Firth of Lorn, 1993 by Neil Smitham
The logistics and organisation of this trip would prove to be excellent all round and with the help of  those on the trip (and others not on it) we would have a wonderful expedition. The trip involved organising food, water, boats, fuel, camping and dive sites to name a few, as we would be self-sufficient on an Island for a few days with no shops to pop to for forgotten provisions or repairs.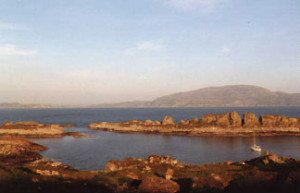 We travelled up to Oban and stayed at the lovely Roseneath B&B in Oban (01631 62929). Up early next morning we took the three boats to the petrol station to fill them and the jerry cans, plus the water containers (with water), before continuing down to Seil Island where we would load and launch the boats from Balvicar. Everything had to be packed right for the journey and the compressor was first loaded onto the inflatable before being packed in with other luggage. Food, water bottles, dive gear, the lot, was loaded into the three boats so that we only had one journey to make out to our destination, The Garvellachs.
The three boats, Osprey and Black Pig from Trafford SAC, and Ian Dearden (Darwen SAC) with Judy2, set off fully ladenand with divers, Ian, Rick, Jen, Ann, Steve, John, Aiden, Yvonne and Neil and headed out of Seil Sound towards The Garvellachs.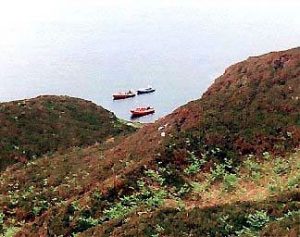 Our destination was a small island, Eileen du Beag, on the way over and this was to be our home for the next three days. In flat calm conditions we made good time to the island and after a quick look round it in the boats we landed on a pebble beach and claimed the island as ours. A cave proved a good place to store provisions and set up the kitchen area. All the gear was landed and the compressor brought onto the beach area above the tide line. The Black Pig was also pulled ashore as we would only bediving from the two RIBs.
After unloading it was time for the first dive, a cliff on a reef between Sgeir na Sandaene and Eileen du Beag. We shotted the site first and then, in waves, dived. The current was quite strong and the cliff face gave some shelter from it and created a nice drift. Excellent viz with loads of Squat Lobster, Brittle Starfish and a Scorpion fish.
After we had all dived it was time to set up camp and tents, although spacious we didn't stay too close too each other as no one wanted to be with the snorers ! Whilst the bottles were filled ready to go diving again, snacks and drinks were had, boats fuelled and mossie repellant applied as we realised what a fortunate spot we had for camp.
We dived in the early evening at Bogea Ant Sagart, another cliff face that was more ledges than earlier. Excellent viz again meant it was easy to see the surface from 16 meters. After we had all dived it was a trip back to the camp for a dinner round a camp fire and filling of the bottles. It wasn't a late night after a long day, and though it never went completely dark, it was a good view back to the lights of the mainland.
The next days weather was calm again but with a bit of light drizzle. Soon after breakfast we had to split up though. One boat made the journey back to Balvicar to collect an ammo box with some essentials in for a suit repair, whilst the other boat went to look at prospective dive sites and do a dive.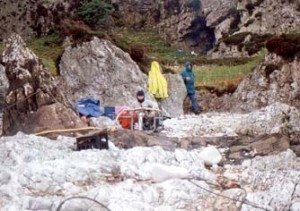 A few hours later we met up again at the island and after a late lunch set out to dive a pinnacle at Ormsa and Eileen Duba Mor. It was another good dive in overcast, but still, conditions. Mainly a cliff face that became ledges at a shallower depth with a good covering of kelp. After the diving and a peaceful dinner (no compressor) it was time to fill the bottles, collect fire wood, do the washing up, drink a few beers and swap stories round the camp fire.
The next days morning dive was out at the The Steps, A'Cauli, between two of the isles making up the Garvellachs. This is where we had a bit of a heart stopping time as we lost one diver, split up from the cover boats. Well, though we lost him, he could see us. In waiting to be picked up he had drifted abit and as we couldn't see him he had swam ashore to sit and wait for us. So there he was watching us look for him, waving his delayed SMB above his head trying to catch our attention. After a while it worked, just as we had called over David Ainsley on The Porpoise to help us look for our "lost" diver ! The dive was a good dive on a cliff face with a maximum depth of 31 meters and excellent viz.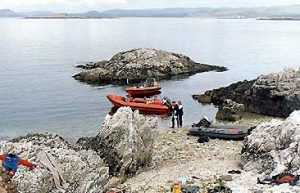 Back to our Isle for late lunch and the last fill of dive bottles ready for our next dive. It was a lovely evening and we decided to dive "The Bengazi" off Fladda. We shotted the wreck and all had an excellent dive on this shallow (10 meters) wreck. Even though we were coming out of the water at 21:15 there was no need for torches as the evening was still well lit.
Last night back on the Isle saw us using up as much as we could, so dinner was brilliant and plentiful and we made sure none of the beer was going to go off. Maybe this was a bad thing, though a good thing we were out there on our own, as Steve, Yvonne and Neil decided to have a late night sing-song.
Next morning was the nicest we had had since we had been there, typical ! Time to break camp, load up the boats and head back to Balvicar. This took quite some time as a problem with the throttle link on The Black Pig meant the boat was on a go-slow. Still we all made it back, loaded up cars, got the boats out and then set off on the drive home.
If you ever get the chance, go diving in the Garvellachs, and if you get the chance to be self-sufficient there for a few days, do it, but don't leave any mess on our island !!