Whilst diving, providing a base for training and improving divers is the primary function of a dive club there are other important activities that take place. Diving is a social activity through which many friendships are developed during the various social and dive activities, not least of which is the annual Christmas dive and meal.
The important point is that through club members such as Steve Bettison and the incumbent social secretary (Paul Moore), many club social events are offered, such as the Christmas dive.
Meeting at Eccleston Delph (one of the inland dive sites the club uses for training), at the sensible time of 10:30, we meet up and catch up with club members. Not everyone is here and out of those that have turned up only four have chosen to dive. What is great is that all levels of divers come along to chat, from JU (our oldest member) and his wife, to people just beginning their diving. The Scarbrooks are some of the regulars and whilst they are not diving today, it is important to note that Richard completed 71 dives this year to mark his 71st year.
Myself and Ian Fletcher buddy up and hit the water which is a tropical 6o C with visibility of about 4/5 meters. Beginning the usual circuit Ian has a brief stop to have a go on the training bike with
reasonable success until he gradually disappeared in a fog of silt. Moving on to the Ack Ack gun, under the plane, through the boat up to the shelf behind, in the hope of finding the two incumbent sturgeon. Sure enough as we pass the oil tank, the albino sturgeon appears gliding along the bed, and a few seconds later the larger sturgeon hove's into view slowly and unconcernedly weaves its way scouring the bed for food.
We return to the boat and past the plane, before turning off for a brief glimpse of the armoured personnel carrier and then to finish through the van ascending to five meters for a safety stop. The 41 minute dive was good fun and it was great to emerge and see a large number of the club waiting to greet us, Steve Bettison clip board in hand asking for depth and time.
A quick change and a drive to the Cornerstone pub for lunch where 25 of the club will have a proper catch up. It's time for all of us to start talking about the dives we have done and what we're doing next year to start in earnest. It's useful and enjoyable with a group of likeminded people sharing their experiences. For me, talking to Jen Scarsbrook about paces to dive and tapping onto her knowledge of sites is always enjoyable. Listening with envy to where people have gone this year, Canada, Scapa, Egypt, Lanzarote, Sound of Mull,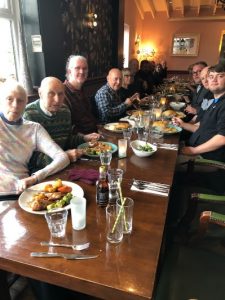 Plymouth, Farnes, the list goes on and continually adds to my list of places to dive. The trip to Gods Pocket sounds fabulous, now to convince my family that it would be good for my soul to get on this trip! It's also a great way for new divers to start planning their future dives and get introduced to dives where they can improve their experience and develop their sea diving skills with the more experienced club members. Its also good to have the traditional post dive laugh and chat with Ian.
Sadly, reality calls all too soon and my daughters' taxi services is required, so I have to leave.
For me, events such as this are as much about the club as the diving and this is what makes belonging to TSAC so worthwhile.
To finish, thanks to Steve for organising the dive again, here's to next year's diving, may it be safe and enjoyable and see you under the water soon.